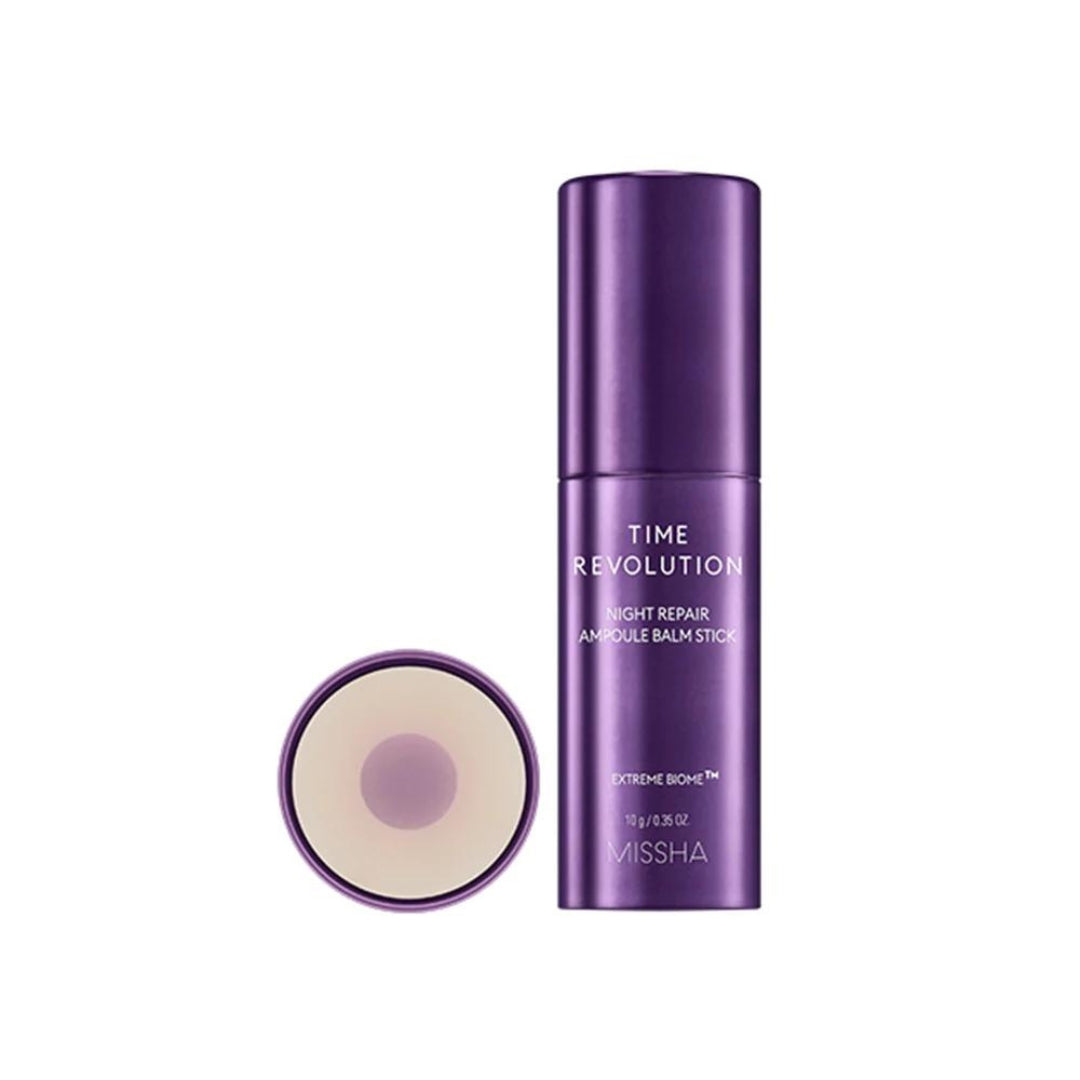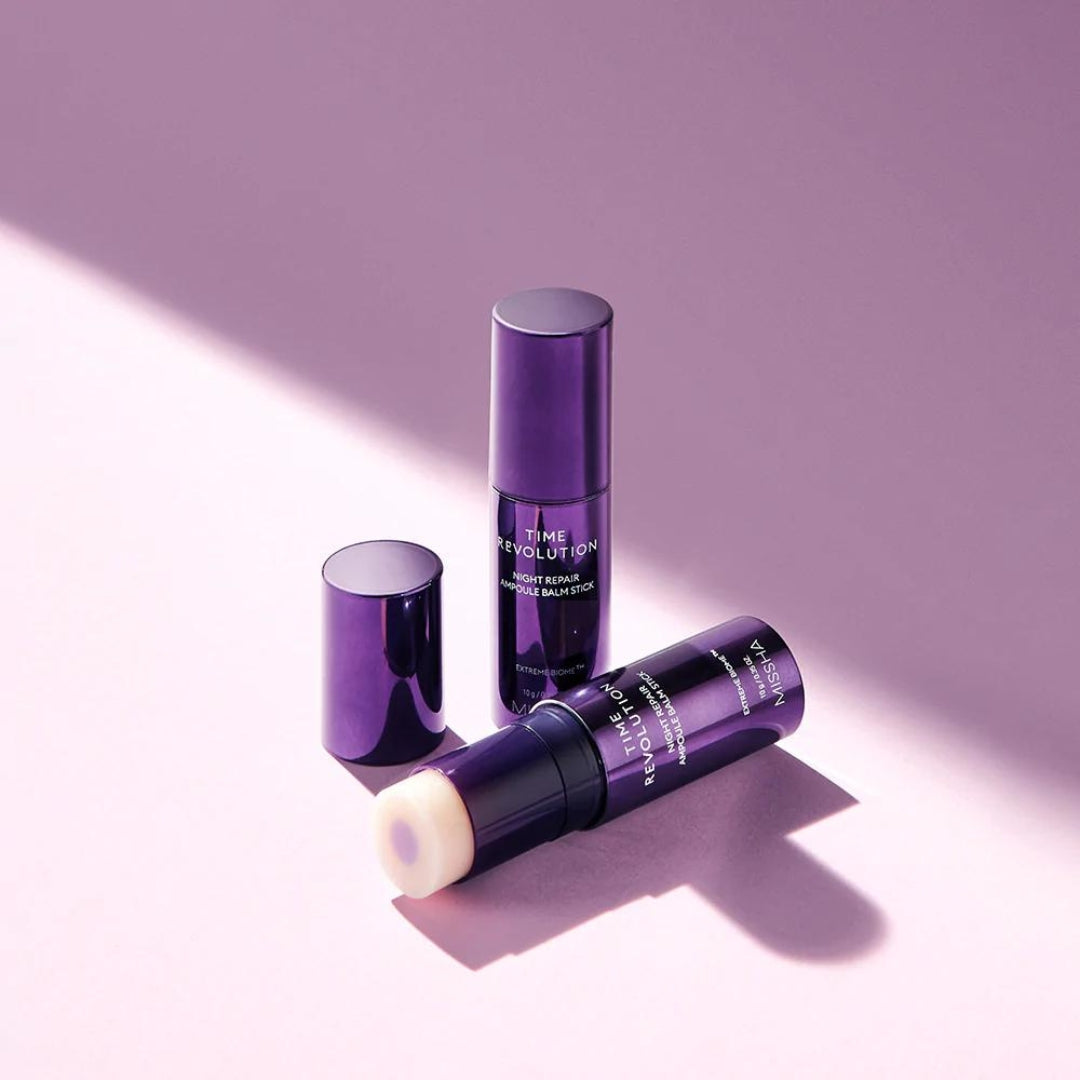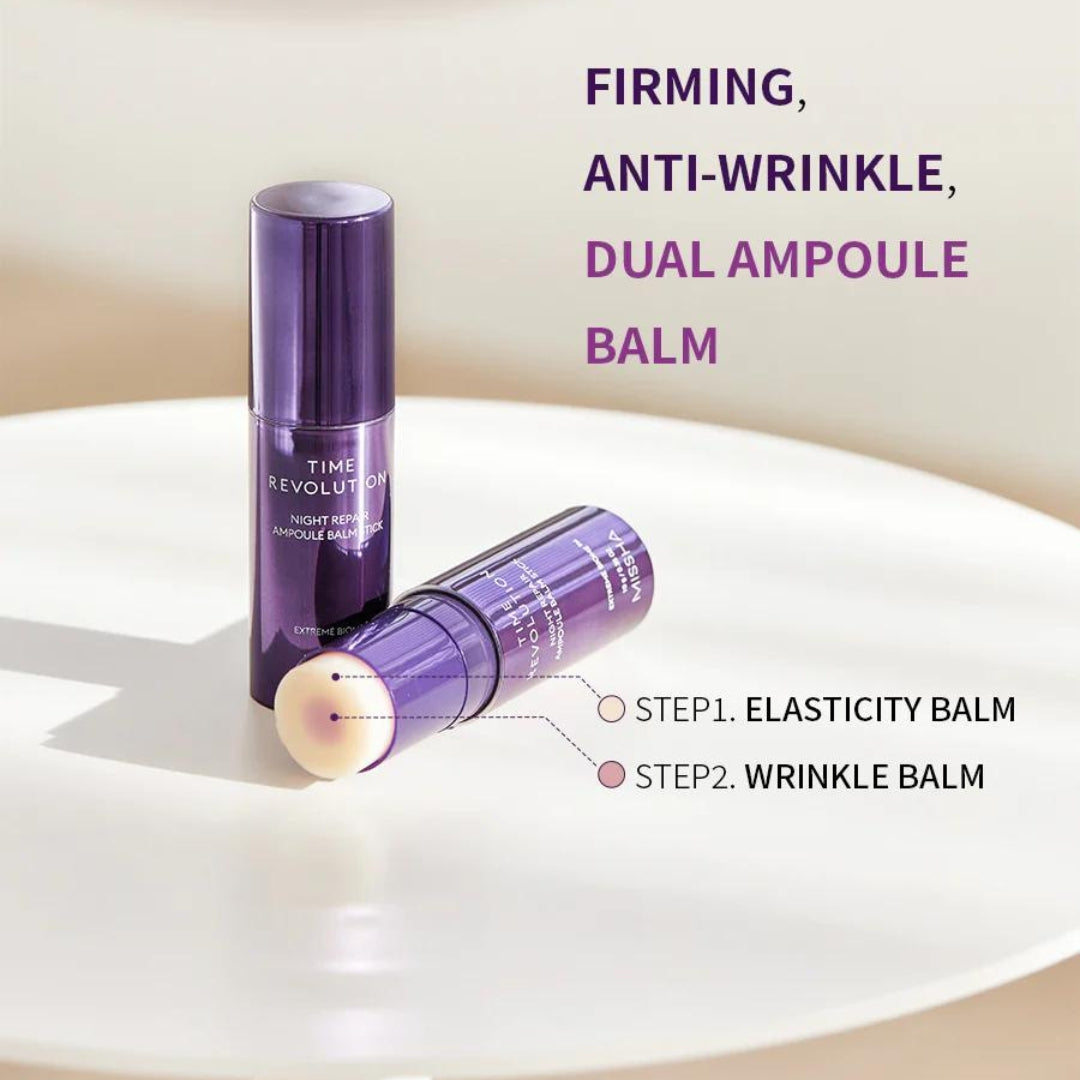 Time Revolution Night Repair Ampoule Balm Stick
---
What is it: Time Revolution Night Repair Ampoule Balm Stick is clinically proven to improve wrinkle depth and appearance with lasting effects for up to 24 hours. 
Missha's best-selling ampoule comes in a stick! This non-sticky and intensive anti-aging dual Time Revolution Night Repair Ampoule Balm Stick effectively cares all the signs of aging like fine lines and wrinkles. This nourishing serum is infused with 77.2% Extreme Biome, formulated with 10 probiotics for rapid effects.
It helps strengthen and firm skin, improves elasticity, and radiance, and lifts moisturizes and brightens skin overnight. Ingredients are fermented with Missha's EXTREME FERMENT α™ Method, a unique three-step fermentation method that stably delivers an extreme boost of active ingredients to the skin.
Roll the balm on areas with wrinkles and dryness anytime. Gently pat lightly to absorb.

Tip: For more targeted care and application, Massage the areas of concern by applying the stick core in a circular motion.
Extreme Biome: made up of 10 different types of probiotics that are put through a fermentation process to extract, preserve, and enhance the skin. It energizes and uplifts the skin, improving all aspects of its appearance including vibrancy, clarity, and transparency. The 10 probiotic ingredients in this product are: Bifida Ferment Lysate, Lactobacillus Ferment, Lactobacillus Ferment Lysate, Bifida Ferment Filtrate, Lactobacillus / Acerola Cherry Ferment, Lactobacillus / Punica Granatum Fruit Ferment Extract (note: Punica Granatum Fruit is pomegranate), Lactobacillus / Soybean Ferment Extract, Lactococcus Ferment Extract, Lactococcus Ferment Lysate, and Leuconostoc / Radish Root Ferment Filtrate

Exclusive Blend of Purple Energy Components (plum, carrot, plum cabbage, eggplant, beetroot and blueberry): a proprietary blend to supercharge skin's vital soothing, brightening and smoothing functions leaving the complexion calmer, clearer and beautifully protected against the environmental attacks of everyday life

Collaganeer: a combination of white lupine seed extract from Western France and sunflower seed oil to improve skin resiliency and texture
This product has no reviews yet.